Draw images
Let's get down to business!

First, you need to connect your ByteBoi to your computer's USB port and turn it on.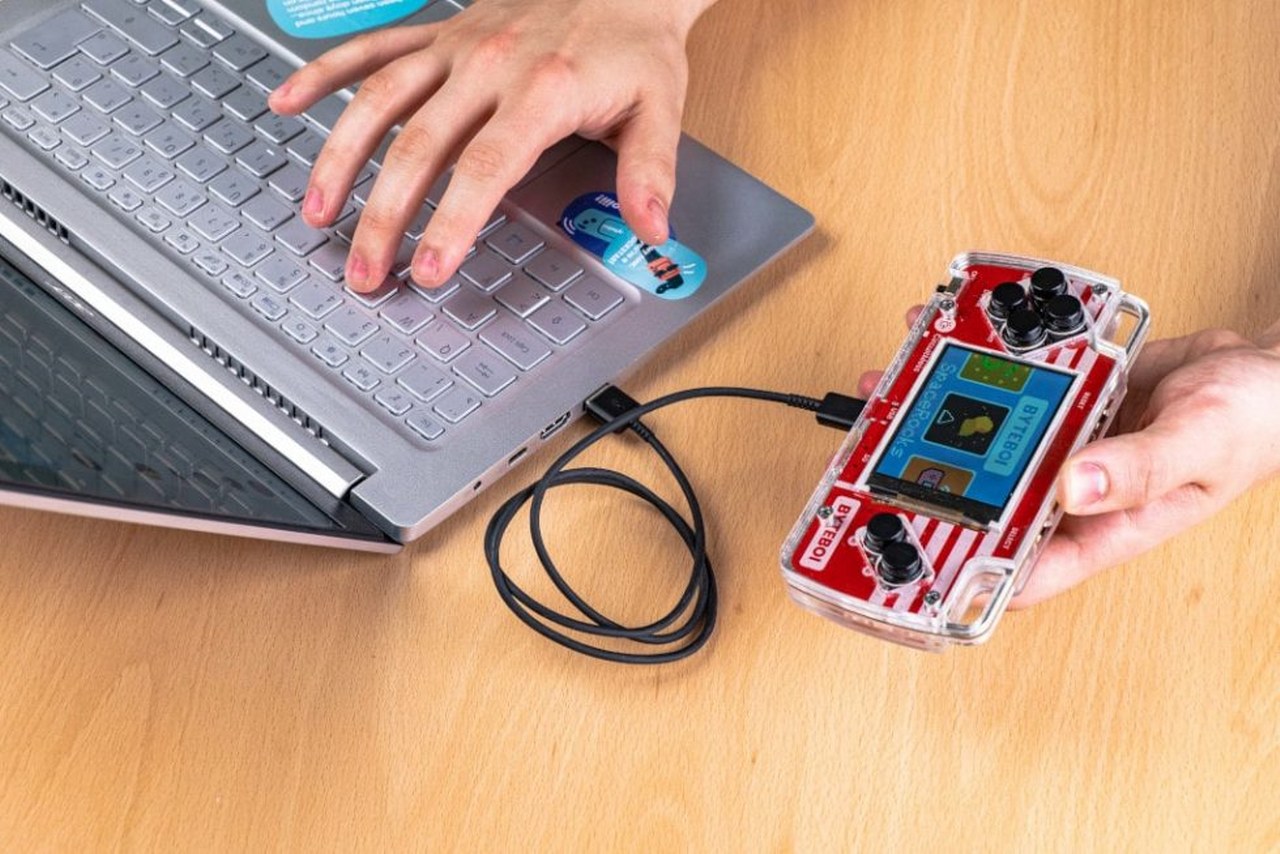 CircuitBlocks should now say "ByteBoi connected".


If CircuitBlocks didn't recognize your ByteBoi, please check if the USB cable is plugged in properly and if you are using a working USB port on your computer.
If you still cannot get CircuitBlocks to recognize your ByteBoi, something possibly went wrong with the driver installation on your computer. Drivers are these little programs that help your computer communicate with ByteBoi, and they sometimes act funny. Reach out to us via email at
contact@circuitmess.com
if you cannot get your computer to recognize your ByteBoi. 

Run the sketch/restore the firmware, so the error occurs again, then go back to the home page in CircuitBlocks, scroll to the bottom, and in the footer, you will find a "Send error report" button. It will open a window with the information that includes the error that happened and some other info about your system that might help us resolve your problem. When you click "Send report", the report will be sent to tour servers, and you will get a report ID. Please get back to us with that ID, and we'll be able to assist further.

Let's draw something!
The first thing we're going to learn is how to use our new feature called
Draw sprite
!
In computer graphics, a
sprite
is a two-dimensional image or animation that is integrated into a larger scene.
Find a
brush icon
on your
Toolbar
first.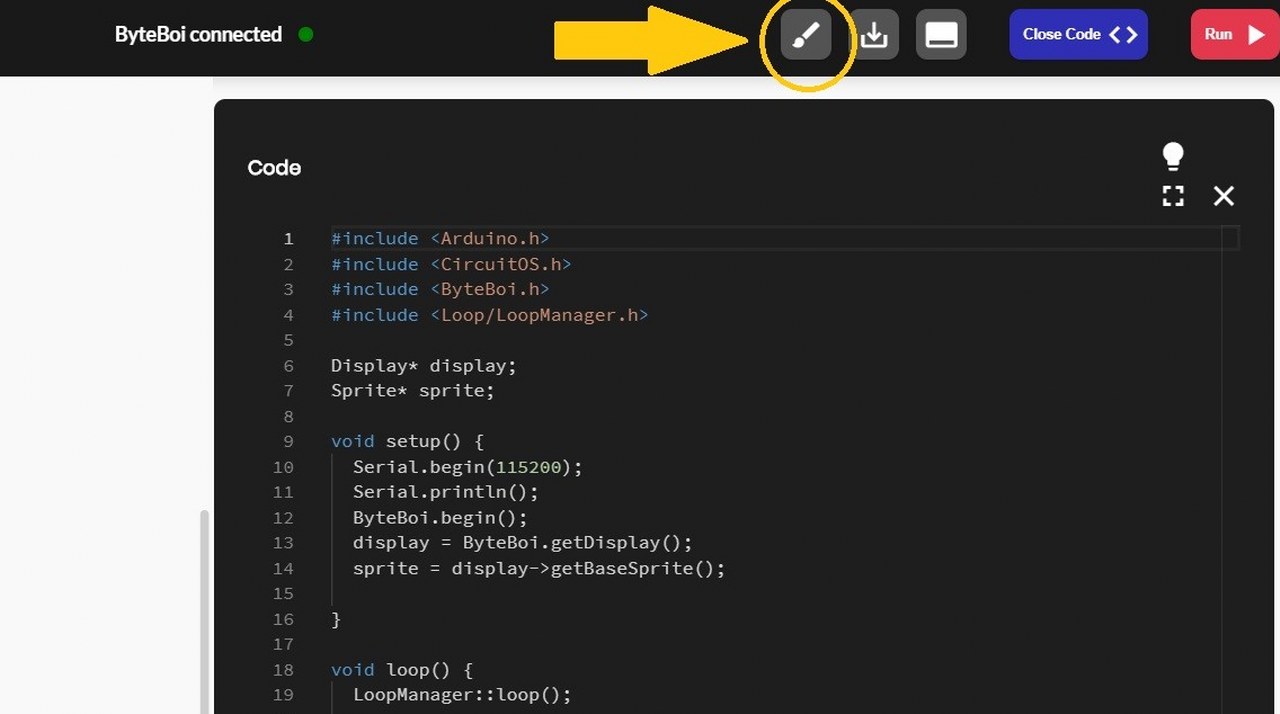 A window will open, as shown in the photo below: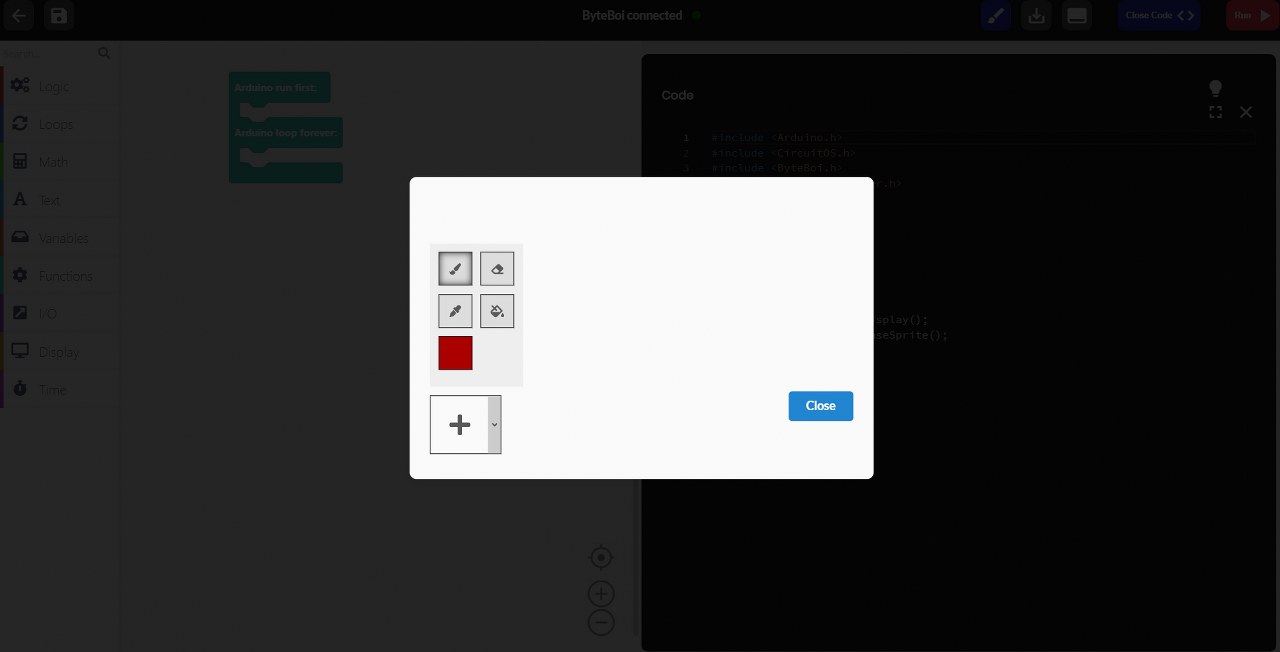 Let's see what each icon means.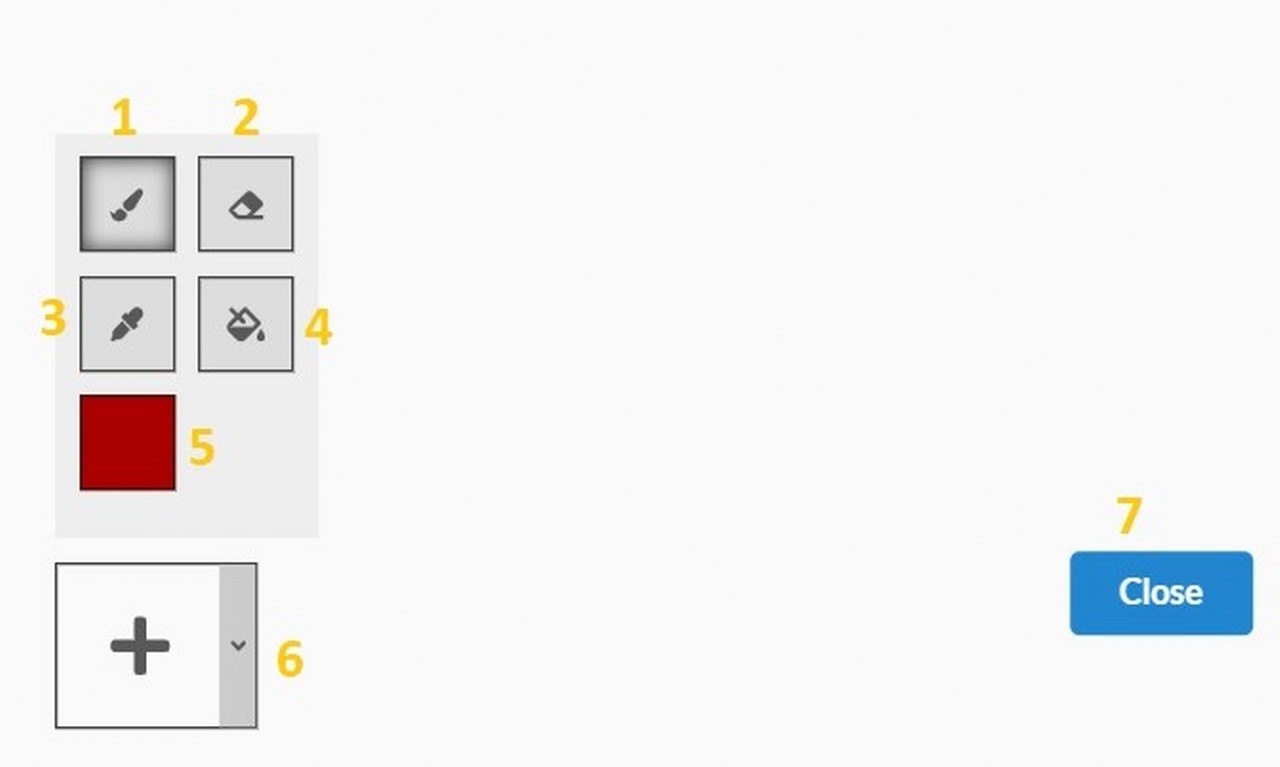 Paintbrush

 

- you'll use it for painting whatever you want.
Eraser

 

- you'll use it for erasing mistakes you make.
Color picker

 

- pick a color from the picture and draw.
Fill in with color

 

- fill the image or part of an image with a different color.
Color palette

 

- here, you can choose which color you will use for drawing.
New picture

 

- if you click on a plus (+) sign, you will get a blank window for your new picture. But if you press an arrow pointing down, you will see all the pre-made images.
Close

 

- once you're done with the drawing, press the big blue button saying "Close".
This is the blank window you'll see at the beginning of the drawing.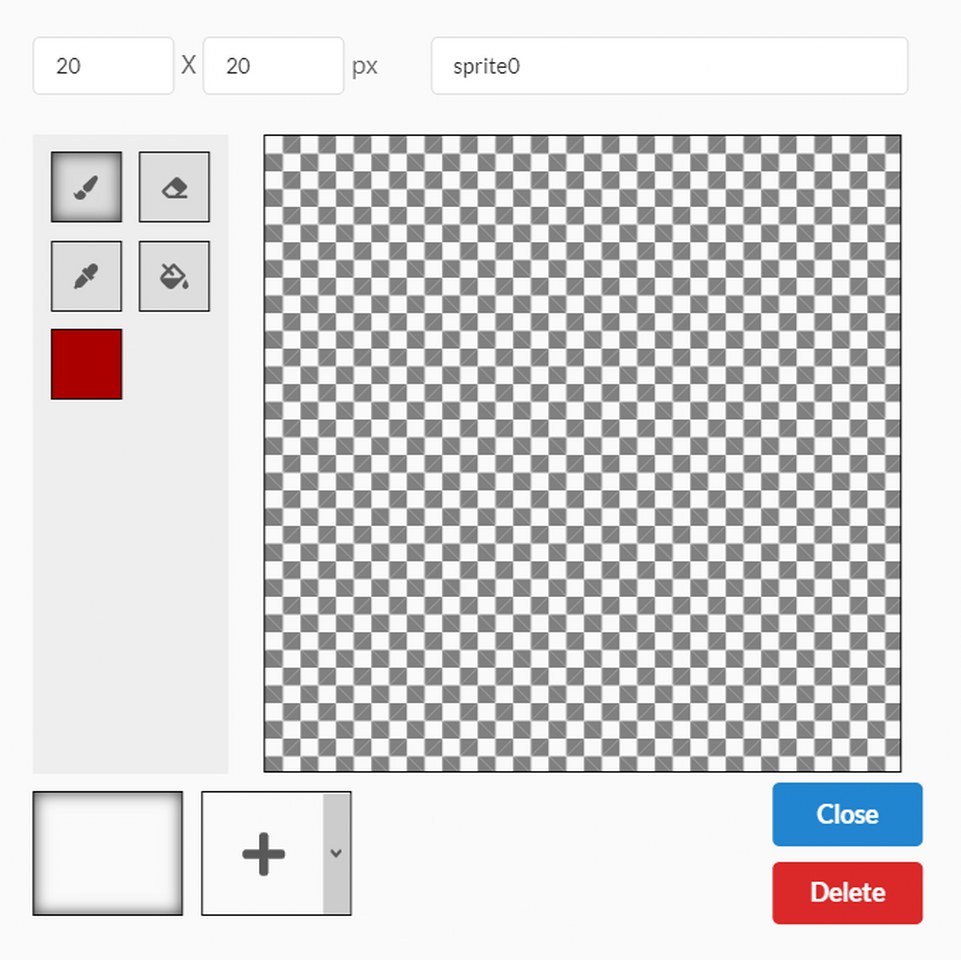 You can paint whatever you want, and later on, you can put it on your ByteBoi's display.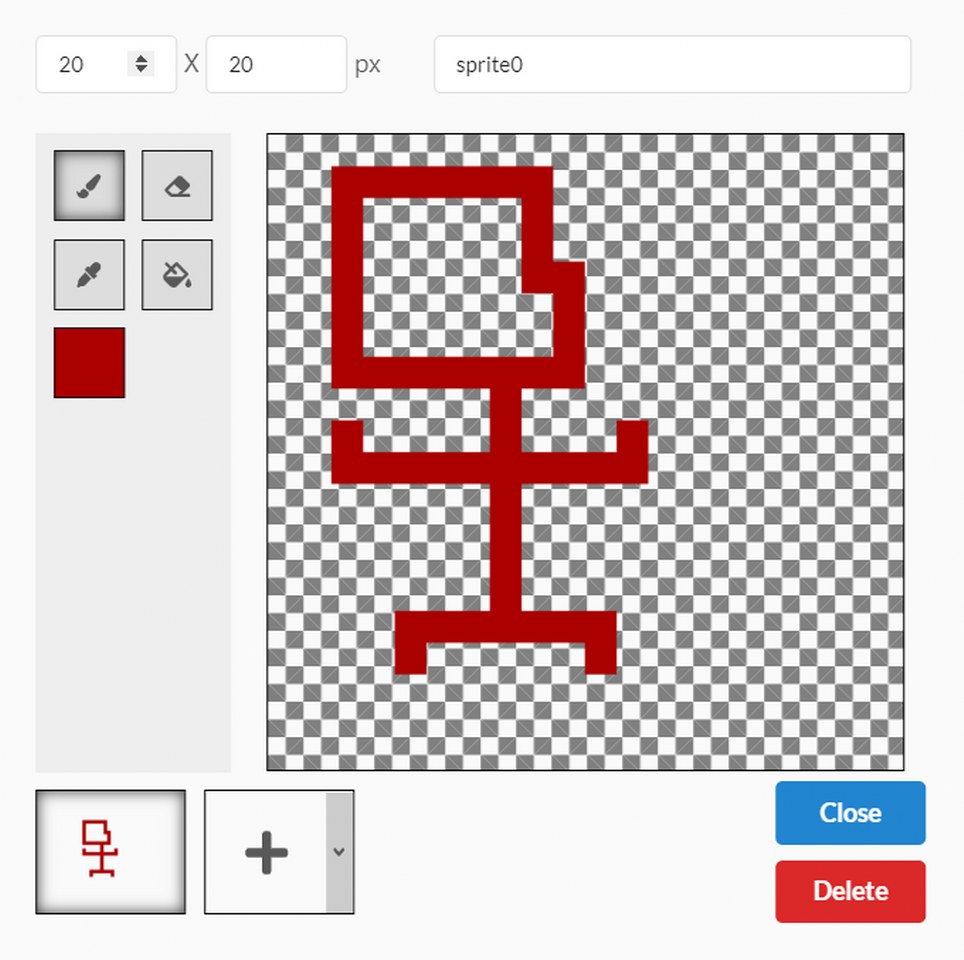 If you don't want to draw but you'd like to have some cool images on your ByteBoi, you can always choose a pre-made one.

Maybe you want to draw on the pre-made icons and make them better. No problem, just click on the one you want to upgrade, and start drawing!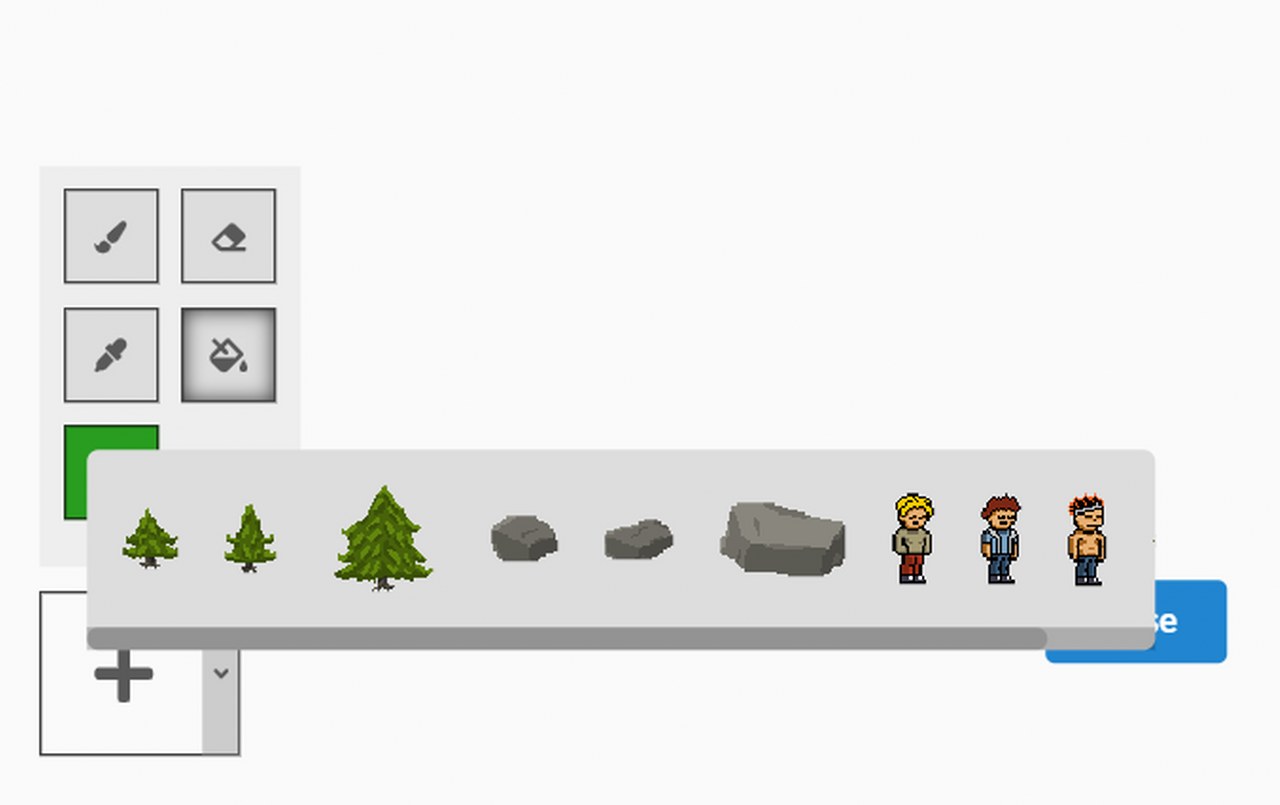 For example, I chose to draw a Christmas tree but didn't want to draw a tree from scratch. So, I took a premade tree and drew Christmas ornaments.

Also, I didn't want my tree to have a generic name, so I renamed it to christmastree.

If you want to rename your drawing, you should know that its name cannot begin with a number, and there can't be any spaces between words.

One more tip is you can change the resolution of your sprite in the upper left corner.

The resolution
is the size of a sprite, and it's measured in pixels.

A pixel
is the smallest controllable element of a picture represented on the screen.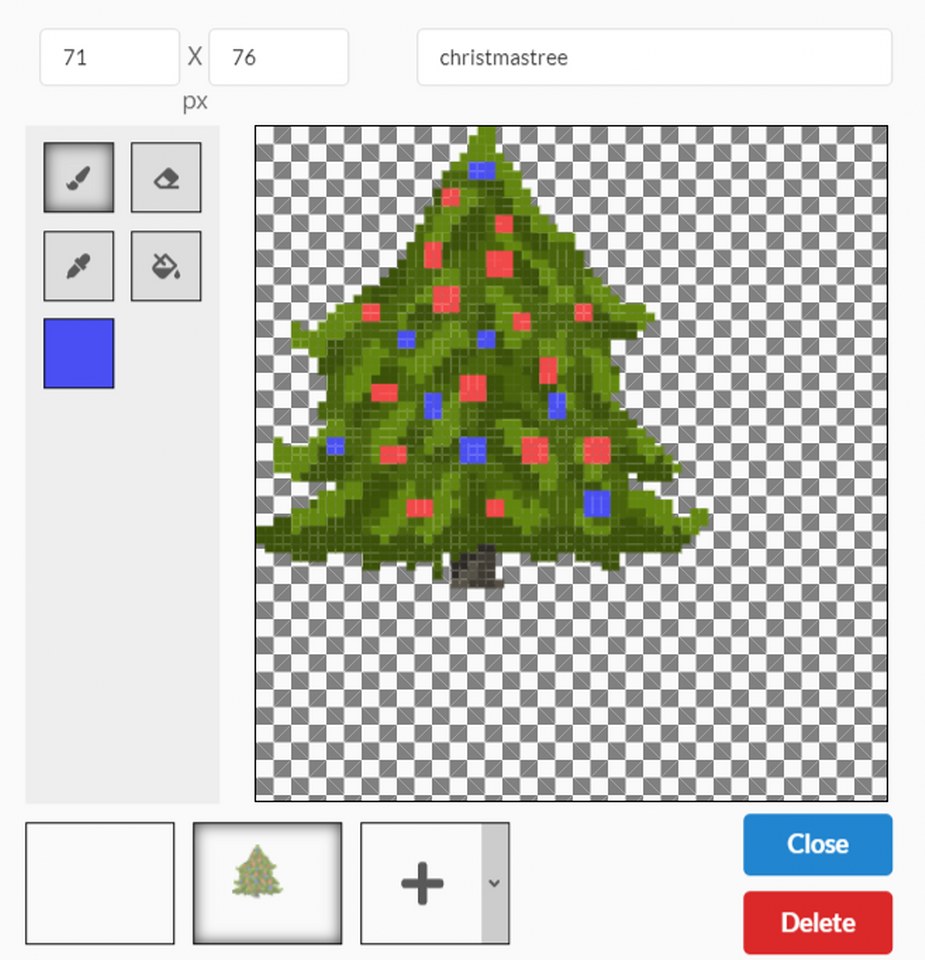 You can play with this some more, but now we're going to code for real!