A world of imagination & curiosity — delivered
STEM Box
Electronics & coding
Delivered every 3 months
Starting at $79/Box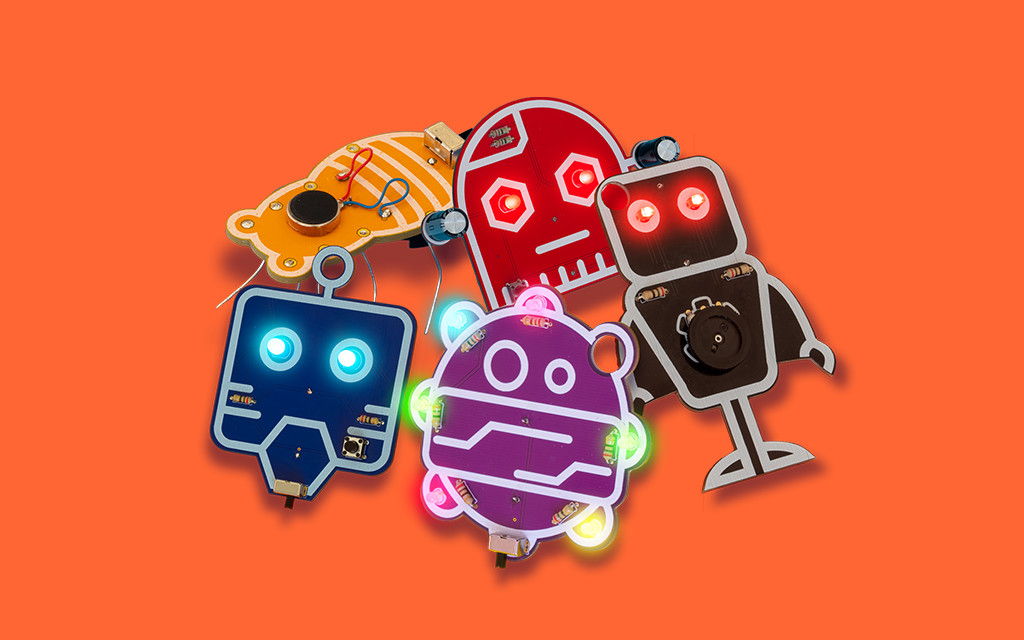 Delivered every month
Starting at $29.99/Box
Discover electronics & coding with unique DIY projects
Why it's the perfect gift
Convenient
Each project comes with all the components and detailed guides to make learning exciting
Continuous Fun
With monthly deliveries, kids will always have something to look forward to
Tried & Tested
All projects are tested to ensure they're ready for the most curious minds
Check out the crowd favorites
Become a DJ superstar!
Discover electronics and coding with a DIY DJ mixer Jay–D
Retro is cool!
Assemble your own game console Nibble and be the coolest kid on the block
Featuring: @The Icy Penguin
Hands–on fun!
Get a unique DIY project delivered every 3 months with STEM Box
Over 80,000 Boxes delivered to future engineers worldwide
Check out #CircuitMess to see more makers
Here are our most asked questions. Can't find what you're looking for?
Can I give CircuitMess Boxes as a gift?
Of course! Our subscriptions make wonderful gifts. Simply visit our Gifting page and make your gift selection (1, 3, 6 or 12-month subscription or a product bundle).

Which subscription line should I choose?
We currently offer two different subscription lines - Wacky Robots & STEM Box.
Here are the main differences between the two:

Wacky Robots subscription:
• Ages 9+
• Projects delivered monthly
• You can choose from 1 month, 3 months, 6 months or 1 year of pure STEM fun
• Projects teach about electronics
• All the projects are completely tailored to beginners

STEM Box subscription:
• Ages 11+
• Projects delivered every 3 months
• You can choose from 1 month, 1 year or 2 years of pure STEM fun
• Projects teach about electronics & coding
• The projects are of medium complexity but totally beginner-friendly
Can I have the first Box shipped to me so I can give it as a gift?
Yes, simply enter your shipping information when checking out. Then, after your order is shipped, log into your user account and change the shipping information to the recipients address and we'll make sure to ship all the subsequent Boxes to their address.
We ship worldwide - you can get a Box no matter where you are in the world.
The estimated shipping time is 4 to 6 days, and the best part is that we offer free tracked shipping!
Is this for beginners or experienced makers?
Both!
If you're a beginner, choose our Wacky Robots subscription line and easily enter the exciting world of electronics.
With Wacky Robots, you'll learn about the basics of electronics topics like LEDs, Ohm's law, resistors, capacitors and much more.
Choose our STEM Box subscription line if you're a more experienced maker.
With STEM Box, you'll learn about topics like Artificial Intelligence, Machine learning, and other skills of the future. You'll also find that our kits are completely customizable, with endless tinkering and modification options in both hardware and software.
To get inspired & share your creations, visit our Community forum or Discord server.
Where can I find additional information & learning materials?
You can find all anatomy, build, code & usage guides on our learning platform CircuitMess Resources in the section Guides.

CircuitMess Community forum is a place for additional discussions and valuable tips and chat with our team and hundreds of users.

All other free additional resources (games, apps, schematics etc.) can be found in the Creations section.

Everything we do is open-sourced, and more information about all the products is available on our GitHub.

If you still can't find the answer you're looking for, you can always reach out to us at contact@circuitmess.com, and we'll be happy to help!